Itsellä seurannassa mielenkiintoinen konsepti, johon ei alunperin ollut ajatus sekaantua.
Ystävä alunperin tätä suositti vilkaisemaan:
Decentraland (MANA) is an Ethereum token that powers the Decentraland virtual reality platform. MANA can be used to pay for virtual plots of land in Decentraland as well as in-world goods and services.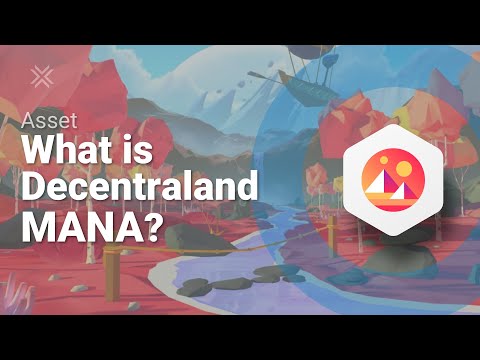 Aloitettu kehittämään Stone age formaattia 2D gridistä, vuonna 2016 Bronze age grid 3D.
Virtuaalimaailmassa oleva ETH pohjainen bittiraha, heiluu 00.2 USD - 1.6USD ja takaisin dropin jälkeen 0.77USD tänään.
Kurssi heilunut tänään +16-30%.
Coinbasen Whitepaperista kopsattua MANA:n osalta:
Applications
The Decentraland scripting language will allow the development of applications,
games, gambling, and dynamic 3D scenes. This scripting language will be designed to
handle a wide range of capabilities, including creating objects, loading textures,
handling physics, encoding user interactions, sounds, payments, and external calls,
among others.
Content Curation
Users in Decentraland will gather around neighborhoods of shared interest. Being
located near high-traffic hubs will drive users to the landowners' content.
Advertising
Brands may advertise using billboards near, or in, high-traffic land parcels to promote
their products, services, and events. Some neighborhoods may become virtual
versions of Times Square in New York City. Additionally, brands may position products
and create shared experiences to engage with their audience.
Digital Collectibles
We expect users to publish, distribute, and collect rare digital assets issued on the
blockchain by their creators. Just as it occurs today in other virtual worlds or through
online forums, these digital assets will be traded inside this world through the
scripting system and be backed by the aforementioned naming system.
1.5 Use Cases
Architecture 8/14
Social
Groups that currently gather in online forums, chat groups, or even other centralized
multiplayer games could port their communities into Decentraland. Offline
communities could also find in Decentraland a space to gather.
Other use cases
There are no technical specifications to what could be built in Decentraland.
Therefore, other use cases could emerge, such as training and professional
development, education, therapy, 3D design, and virtual tourism, among others.
Isompi ¨maakauppa¨ virtuaalimaailmassa, noin 900k USD.
The buyer was an investment vehicle called Republic Realm, a digital real estate investment fund, the Decentraland Foundation said. Republic Realm is owned by Republic, a U.S.-based investment platform backed by investors including Binance and Prosus.
It was the most expensive purchase of NFT land to date, according to DappRadar, a website which tracks NFT sales data.
Made up of 259 units or "parcels" of land, the plot of virtual real estate represents 66,304 virtual square metres (16 virtual acres), making it also the biggest Decentraland land purchase in terms of virtual size.
Itse ajattelin aluksi että kuka tähän lähtee mukaan, virtuaalisena jotakin mainoksia ja musa festareita johon lähdet kryptovaluutalla ostamaan omaa maata ja rakentamaan habbohotellin tyylistä toimistoa.
Noh, ajatukset muuttui kun uutisia alkoi tippua pikkuhiljaa ja viimeiset kurssi heilunnat ajoivat tarkastamaan asiaa tarkemmin. Habbohotelli onkin päivitetty nykyaikaan.
Siinä musafestarista vähän juttua.
The musician is auctioning an NFT based on his debut album Reasonable Doubt at Sotheby's, according to a statement. Jay-Z has commissioned digital artist Derrick Adams to create a one-of-one animated digital collectible that is meant to "recontextualize" the album cover, which was originally released exactly 25 years ago.
Called Heir to the Throne, the NFT is composed of a single animated image featuring bright colors, multi-layered textures and flat surface dimensions. According to the statement, the image was inspired by both Jay-Z 's and Adams's experiences with "life in the urban streets."
The exhibition will be available at Sotheby's New York but also digitally in the virtual world Decentraland, which uses the Ethereum blockchain. The sale will run until July 2, with bidding to begin at $1,000. Buyers have the option of paying in ether, bitcoin or fiat currencies. A portion of the proceeds from the auction will go to the Shawn Carter Foundation, which helps individuals from low-income backgrounds further their post-secondary education.
Oma yhteenveto, uskoa löyty vähän sen takia pieni positio. Kuitenkin nään että näytöt esim Ada Cardano:lla paremmat tulevaisuuteen.
Manan HODL mentaliteetilla 5v ja katsotaan mikä tilanne, jos menee positio niin sitten menee.
Tämä ei ole sijoitusvinkki kenellekkään, ottakaa asioista selvää ja jakakaa ajatukset myös tänne