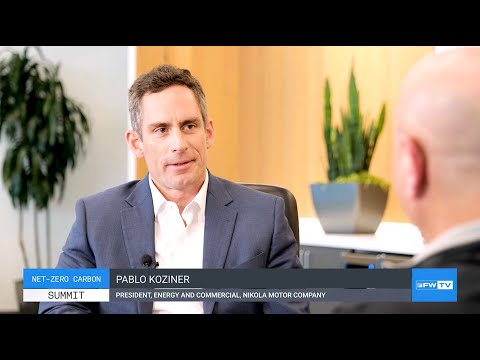 Haastattelussa Pablo Koziner
Laitetaan tännekkin, tankkeja tilaukseen:
What: Date of Nikola Q1 2021 Financial Results and Q&A Webcast
When: Friday, May 7, 2021
Time: 9:30 a.m. ET (6:30 a.m. PT)
Webcast: Investors | News (live and replay)
An archived webcast of the conference call will be accessible from the Investor Relations section of the company's website Investors | News.
The collaboration includes vehicle trials and a Letter of Intent (LOI) to order 100 Nikola Class 8 battery-electric vehicle (BEV) and fuel-cell electric vehicle (FCEV) semi-trucks. The collaboration is subject to negotiation and execution of definitive documentation acceptable to the parties.
Tulee olemaan kyllä tärkeä ER Nikolan kannalta. Edellisestä osarista käytännön pulkkamäkeä alaspäin yhteen menoon ja johto yrittää varmaan kannatella yhtiön menestystä/saavutuksia BEV:in varaan.
Kuitenkin markkinoiden täytyy odottaa uutisia vetyinfran ja -rekkojen tilanteesta, samoin kassavarat on varmasti syynissä. Vaikea sanoa, miten alas kurssi voi romahtaa, jos edellinen 9.37 ei pidä.
"As of today, we have completed eight of the nine trucks, with the ninth scheduled to be completed by May 10. Three trucks from the second batch of nine are at Nikola's headquarters in Arizona, one is in Indiana for crash testing, and four are in transit to the HQ in Arizona. We anticipate that the four trucks in transit, in addition to the ninth truck being completed, will arrive at our HQ by the end of May."
The company sees Arizona vehicle trial production starting as early as July.
Looking ahead, Nikola sees breaking ground on its first commercial hydrogen station and delivering the first Nikola Tre BEVs to customers in Q4.
Nikola Corporation (NKLA) Mark Russell on Q1 2021 Results - Earnings Call Transcript
https://seekingalpha.com/article/4425736-nikola-corporation-nkla-mark-russell-on-q1-2021-results-earnings-call-transcript
Turning to the balance sheet, we ended the first quarter with $763.8 million of cash and cash equivalent. We have no debt outstanding as of March 31 aside from our Phoenix headquarters lease obligation
Our capital investment plans include phase one Coolidge manufacturing plant and equipment, supplier tooling, hydrogen infrastructure, and fuel cell electric vehicle engineering equipment. As we continue to move forward and execute on our business plan, we look forward to achieving the following milestones in 2021. Start of the vehicle trial production at the joint venture manufacturing facility in Ulm, Germany in June 2021. Start of vehicle trial production at the Greenfield manufacturing facility in Coolidge, Arizona in July 2021. Break ground on our first commercial hydrogen station, announced additional hydrogen infrastructure and ecosystem partners, announced additional fleet testing customers and deliver the first Nikola Tre BEV to customers during the fourth quarter of 2021.
We actually had fleets in here to our Phoenix headquarters and on our local Phoenix test track this week. We had 25 fleets represented in our customer days this week that came in and actually had a chance to ride in the trucks look under the hood, as metaphorically speaking and have some technical presentations